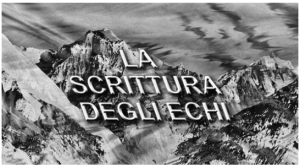 NERO  LA SCRITTURA DEGLI ECHI
27 February – 7 June
MAXXI, Roma, IT
NERO presents its La scrittura degli echi project, a daily programme of audio works broadcast over the Museum's public address system. For three months NERO will be occupying the virtual space of the Museum's service communications to convey an ephemeral but collective voice with free interventions, some original, others not, by a number of artists. In the form of recordings, readings, extracts and sound effects, broadcasts will be made daily, at random times, from 27 February to 7 June. La scrittura degli echi does not create an identifiable space of representation, nor is it restricted to a purely exhibition dimension. On the contrary, it uses MAXXI's public address system, which is designed to be invisible, ubiquitous and practical, while modifying its use. La scrittura degli echi creates indirect interaction with the body of the Museum, restricting the intervention to an invisible dimension, which is subsidiary to the acoustic event broadcast over the public address system. This is neither a Sound Art exhibition nor a radio programme, but rather a series of sound interventions that enter into the institution's everyday activities, giving the instability of sound the task of telling a lesser story.
La scrittura degli echi presents audio contributions from: Acchiappashpirt, After Howl, Cory Arcangel, Gianfranco Baruchello, Chiara Barzini, Elisabetta Benassi, Riccardo Benassi, Alicja Bielawska, Ross Birrell, Massimiliano Bomba, Carola Bonfili and Francesco Fonassi, Giorgio Andreotta Calò, Canedicoda, Giuseppe Casetti, Lorenzo Castore, Spartacus Chetwynd, Alessandro Cicoria, Mike Cooper, Claudia Comte, Matthias Connor with Oliver Payne and Brian Degraw, Nina Cristante, Enzo Cucchi, Dario D'Aronco, Emanuele De Raymondi, Costantino Della Gherardesca, Filippo de Pisis, Rä di Martino, Stanislao Di Giugno, Dunja Herzog, Esc, Bob Flanagan, Mario Garcia Torres, Gelitin, Goldschmied & Chiari with Cristiano Fini, Francesca Grilli, Grip Casino, Helena Hladilová, Heroin In Tahiti, Invernomuto, Tobias Kaspar, Key Of Shame, Salvatore Lacagnina, Vincenzo Latronico, Emiliano Maggi, Mai Mai Mai, Marcello Maloberti, Tijana Mamula, Miltos Manetas, Michele Manfellotto, Fabio Mauri, Maurizio Nannucci, Matteo Nasini, Caterina Nelli and Saam Schlamminger, Olaf Nicolai, Giorgio Orbi, Eddie Peake, Francesco Pecoraro, Nicola Pecoraro, Luana Perilli, Alessandro Piangiamore, Cesare Pietroiusti, Giuseppe Pietroniro, Fabio Marco Pirovino, Gianni Politi, Riccardo Previdi, Primitive Art, Federico Proietti, Marco Raparelli, Max Renkel, Moira Ricci, Claudio Rocchetti, Amelia Rosselli, Andrea Salvino, Thomas Sauter, Lele Saveri, Nora Schultz, Marinella Senatore, Lorenzo Senni, Sissi, Davide Stucchi, Luca Trevisani, Patrick Tuttofuoco, Nico Vascellari, Valentina Vetturi, Johanna Viprey, Vipra, Luca Vitone.
THE INDEPENDENT A project by Hou Hanru Curated by Giulia Ferracci and Elena Motisi. The Independent is a research project set up to select and promote independent spaces and ideas. It is the manifesto chosen by MAXXI in order to expand the frontiers of the museum, to investigate the contemporary world, to encourage a culture of difference and to respond to the identity crisis inflicted upon the social system by the mainstream
Q.I. VEDO
curated by Adriana Rispoli
Quartiere Intelligente/Scale di Montesanto Naples
25th of Aprile to 16th of May 2015
8 – 12 pm
Luana Perilli
Urformen
2014
7'
Courtesy The Gallery Apart, Roma
Urformen – literally archetypes / the original forms – is a cameo that the artist dedicated to the master of German photography Karl Blossfeldt (1865 -1939) who argued in his lessons of "sculpture" that plants should be evaluated as artistic and architectonic structures. Through a simple close up sequence, Luana Perilli trenslates in video the principle that all sculptural forms already exist in nature. Therefore nature is the archetypal of art. The sharpness of detail, perfection of form and color saturation establish an ambiguous short circuit between natural and artificial, between ordinary and extraordinary. A tension between culture and nature played sensory: the closer look expands the perception of archetypes and it projects a sense of construction and formal artifice (LP).
The research of Luana Perilli (Rome, 1981) is focused on the relationship between nature and culture. Through various media she investigates the connection between natural and artificial world, both in the analysis of eusocial animals such as ants, and the relationship of their community models with human societies, both in the last production of ceramic sculptures with organic forms conceived as habitable and functional works
Among the exhibitions include Janela, New Museum Goa, Kochi, India, All for One, Medium Galerie, Bratislava, SK, Internaturalità, PAV Turin, RE-generation MACRO, Rome; Patria Interiore,  Golden Thread Gallery, Belfast, Grant VAF Foundation Stadtgalerie Kiel, An intimate story, Cotroneo Collection, MAMM Moscow; Premio Cairo, Permanente Palace, Milan.
She has also partecipated to residence Pan Studios Program, Naples (supervisor Daniel Buren), Art Omi Grant of Dena Foundation in New York, Citè Internationale des Arts, of Incontri Internazionali D'Arte, Paris.
Q.I. VEDO  curated by Adriana Rispoli is the  visual format ​​specifically conceived for Quartiere Intelligente (Q.I.) which is  a pilot project of regeneration and re-use of urban spaces, a work in progress  in the neighborhood  of Montesanto in Naples. Emerging artists  interpret the environment, sustainability and the relationship between man and nature while exploiting main stream advertising strategies by projecting visual messages on a WALL.   This anonymous wall turns into a magnetic attraction for aesthetic and cognitive capital aiming to strike the imagination and the fantasy of even a transitory audience. The language of the moving image thus enters into the urban space in order to develop a collective consciousness, to co-create a new type of community respect and awareness towards natural resources and its own environment.
The project has the patronage of Madre Museum – Fondazione DonnaRegina per le Arti contemporanee.
 for further details:
Quartiere Intelligente
Associazione Culturale Montesanto 3
Scala Montesanto 3, Napoli – 80135
Cell. +39 327 040 7003
Tel. +39 081 0661371
quartiereintelligente@gmail.com
http://www.quartiereintelligente.it/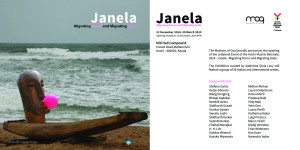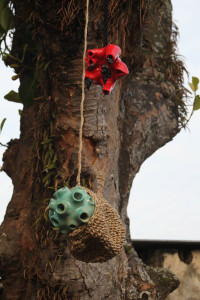 Korallen Korb- glazed ceramics, rope – installation view Janela , Kochi Muziris Biennale , India[/caption]
Artist: Stefano Canto (Rome, Italy), Kedar Dhondu (Goa, India), Bhisaji Gadekar (Goa, India), Kendell Geers (Johannesburg, South Africa), Siddharth Gosavi (Goa, India), Gonkar  Gyatso (Lhasa, China), Sweety Joshi (Mumbai, India), Katharina Kakar (Luebeck, Germany), Siddharth Kerkar (Goa, India), Subodh Kerkar (Goa, India), Chaitali Morajkar (Pune, India), H.H.Lim (Kedah, Malaysia), Kalidas Mhamal (Goa, India), Kazuko Miyamoto (Tokyo, Japan), Midhun Mohan (Goa, India), Krisna Murti (Jakarta, Indonesia), Pradeep Naik (Goa, India), Viraj Naik (Goa, India), Yoko Ono (Tokyo, Japan), Luana Perilli (Roma, Italy), Luigi Presicce (Porto Cesareo, Italy), Marco Tirelli (Roma, Italy), Diptej Vernekar (Goa, India), Friso Witteveen (Amsterdam, Netherlands), Kan Xuan (Xuancheng, China), Narendra Yadav (Ratnagiri, India)
Concept Note: 'Janela' is an exhibition that intends to stir up histories. To dig into the recesses of historical archives, memory and celebrate the 'connectedness' of cultures. The waves that wash the shores of the west coast of India have not only carved and shaped rocks, but also ideas, dreams and narratives. The ocean has acted as a medium of intercontinental cultural diffusions. The word for a window in both Konkani and in Malayalam is adopted from the Portuguese language. It is 'Janela'. 'Janela' is an attempt to peep into the shared histories of Goa and Kerala and also explore what historians A. G. Hopkins and Christopher Bayly described as proto-globalization. It is also an endeavour to narrate history through the contemporary idiom. Subodh Kerkar, Director of MOG.
'Janela. Migrating Forms and Migrating Gods' features 27 Indian and International artists. A sizeable number of artists working in Goa have been represented. The show focus on the question of visual forms – considered as shapes, archetypes or symbols – and their aptitude to being assimilated or modified during the process of cultural cross-breeding. A special attention is paid on the visual forms connected with the transcendent. In the past, the topic of the sacred image has always had a great importance in European and Indian art. The exhibition questions its redefinition, and the role that it might have, today, in the context of artistic researches focusing on identity, historical, socio-political and/or anthropological issues.
Venue: Mill Hall Compound, IV/599 Eraveli Road, Mattancherry, Kochi- 682002.
Curator: Valentina Gioia Levy
Support: Museum of Goa
Dates: 12th December 2014- 29th March 2015